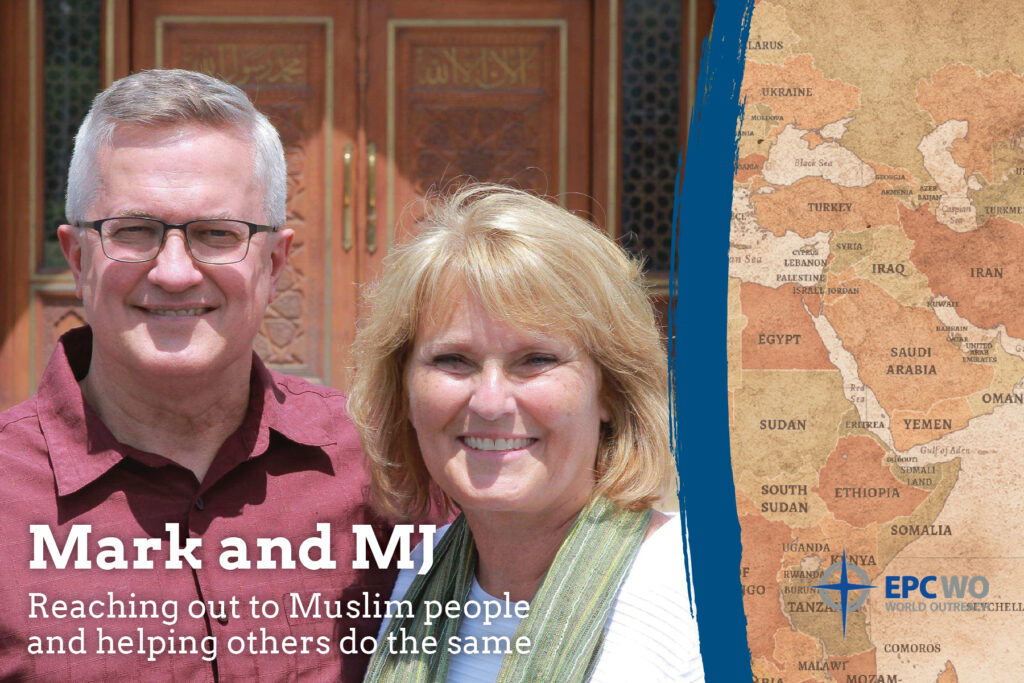 Mark & MJ are with us to kick off our 5th Annual Mission Month!
See the weekend schedule here.
Mark & Mary Jane are U.S. Muslim Outreach Coaches and Missions Mobilizers for or Evangelical Presbyterian Church (EPC) World Outreach. They came into the EPC in 1983 and then Mark was ordained as a Teaching Elder in 1986. While pastoring all those years, Mark had a definite calling to missions in the back of his mind and went on many mission trips.
Mark and MJ were in EPC pastoral ministry for over 25 years until 2006 when they attended a conference in Dearborn, MI on reaching out to Muslims. Sensing a call to full-time Muslim evangelism at that conference, they resigned from the pastoral role and jumped headlong into Muslim outreach on university campuses and in restaurants, gas stations, fruit and vegetable markets, homes, barber shops, and even mosques! They have taken numerous trips to the Middle East (Qatar, UAE, Jordan, Lebanon, Israel/Palestine, Egypt, Iraq, Turkey, and Pakistan). You can find their website for Muslims at http://www.ilovemuslims.net/.
Mark & MJ also speak in churches everywhere. Mark first traveled to Reno in August 2018 and we "adopted" him and MJ into our mission roster the same year. A big part of their travel is the presentation of their weekend "Bridging the Gap" Muslim outreach seminars. The purpose of these seminars is to educate, equip, and energize Christians to gain God's great heart for Muslims and reach out to them with the love of Jesus and his gospel here in the U.S. In 2020, they wrote a book, Loving Your Muslim Neighbor (with a chapter detailing a very special event from that 2018 visit!) You can find their book website at https://lovingyourmuslimneighbor.com/.
Finally, it is Mark & MJ's joy to enlist EPC followers of Jesus to SEND and to GO where the Church isn't – to help those sensing God's call to become global workers – primarily among unreached Muslim people groups.