Dear Friends:
Lent begins this year on February 10. It's a Wednesday. Ash Wednesday we call it. At 5:45 p.m. we will join together for our annual Ash Wednesday soup supper followed by a special Ash Wednesday worship service at 6:30. There is a lot to like about the Season of Lent. Do you suppose we could get Andy Williams or Johnny Mathis or Celine Dion to sing a song about Lent… It's the most… For one thing the name "Lent" comes from the Old English word "lengten" (lengthen). It's the time of year when days are getting noticeably longer. Spring is coming. New life will soon burst forth… wonderful time… Traditionally, it was a season when God's people prepared for Easter by reminding themselves of their complete dependence upon God by fasting, praying and denying themselves various creature comforts (You find out very quickly how much you need and crave foods when you stop eating them!)… of the year?…
Shrove Tuesday (Mardi Gras day), by the way, is a perversion of this season of preparation-through-self-denial idea. It approaches the Season of Lent in a formalistic and legalistic way: "On Wednesday I have to start denying myself things I like, so on Tuesday I'm going to indulge in every attractive sensual self-centered practice I can imagine. I'll spend all of Lent paying back the debt of sin I'll run up during Mardi Gras." The fallacy is that we can pay our own debt through religious acts. The tragedy is that the goal of an ongoing vital love relationship with our gracious Heavenly Father is traded for the illusion of peace with the Almighty and Holy Judge through a balance of moral trade—our self-denying acts of goodness can equal the weight of our self-indulging sins. Nope. Won't happen. Can't happen.
But here is something remarkable to consider… Ash Wednesday, like all of the Season of Lent, is fixed on the calendar according to Easter. It's always a Wednesday because it always comes 40 days before Easter (excluding Sundays). You can't figure out when to have an Ash Wednesday Service until you figure out when to celebrate Easter. There is no special time to remember our "dust to dust" frailty and mortality and utter dependence without the more special time to remember the "He is risen!" strength and immortality and utter faithfulness of our Lord Jesus Christ who, by grace through faith, shares His eternal life with us. Now that's something to think about for a while.
The reality of God's goodness and grace precedes and transcends the reality of our desperate condition and our total need of Him. God isn't good because we need Him: We need Him because He is good. The very fact that we recognize our need and lament our sinfulness is a testimony to God's glory before and more than it is a confession of our brokenness. The universe really is God-centered rather than Man-centered or Me-centered, and that is good news for all of us!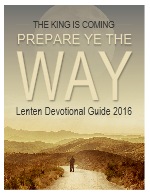 There is a lot to like about the Season of Lent, and this year here at Covenant we are going to add one more thing: we have produced a 2016 Lenten Devotional Guide for us all to use in this wonderful time of preparing for Easter. This guide will feature Old Testament prophecies concerning Jesus, New Testament commentary on the meaning of His death and resurrection, and the Story of Jesus' Passion told in the four Gospels. Each week, beginning with Ash Wednesday and continuing through Easter Sunday, there will be a devotional thought, Bible readings and guides for daily prayer. I encourage you to pick up one of these booklets and use it during the 40 days before Resurrection Sunday.
I'm looking forward to spending another "most wonderful time of the year" with you here at Covenant.
Your Partner in the Cause of Christ,
Pastor Jay